Basement Waterproofing & Crawl Space Repair Contractor in Little Rock, Benton, Sherwood, AR
Is Your Wet Basement or Crawl Space Problem Damaging Your Home and Health?
Customer Review
By Kenneth C.
Blytheville, AR

By Charles C.
Jonesboro, AR

"Chris and his helper were courteous, neat, did an excellent job, and cleaned up completely after finishing."

By Michael R.
Batesville, AR

"The crew that did the installation was good and very helpfull in explaining what they were going to do and were very courteous..."

By Aaron M.
Batesville, AR

"Chris and Brian didn't mind getting dirty and worked hard every day. The crawlspace looks better than I ever imagined. I told my..."

By Christopher I.
Batesville, AR
Crawl Space Solutions of Arkansas offers permanent crawl space and basement repair solutions in all of Arkansas.
We provide a dry crawl spaces and basement waterproofing to homeowners in Arkansas areas. In addition to a complete and lasting solution, our system acts as a passive barrier for radon, insects and also prevents warm, humid outside air from entering the space.
At Crawl Space Solutions of Arkansas we offer Free Estimates on crawl space repair and basement waterproofing in North Little Rock, Little Rock, Benton, Jacksonville, Alexander, Sherwood, Greenbrier, Maumelle, Mabelvale, Bryant, Hensley, Perryville and the surrounding Arkansas area.
Crawl Space Moisture Control in Arkansas
We assure a crawl space moisture control with clean and healthy air circulation. Our major goals are:
To provide exceptional customer service
To create a healthy home environment
To demonstrate our commitment to ethical and reliable business practices
Arkansas environments allow for thriving mold growth, structural decay, and poor indoor environmental quality in both its commercial and residential structures. In response to these problems, Crawl Space Solutions of Arkansas has established itself as a leader in air filtration issues and crawl space encapsulation.
The relative humidity in the crawl space is lowered, and as a result, rot and mold growth is lessened. Additionally, it's been determined that 40-60% of the air that we breathe in the main floor of a home comes from the crawl space.
Crawl Space Vapor Barrier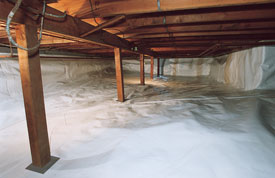 As more and more vented crawl spaces fall victim to rot and mold, building scientists, engineers, and government agencies are realizing that the old-fashioned way of constructing crawl spaces has developed into one of the largest housing epidemics of the times.
Crawl Space Solutions of Arkansas is taking this problem head-on, with years of experience in the mold, air quality, and construction industries. They have the experience, equipment and best practices needed to best take care of crawl spaces.
Sign up for a no obligation crawl space inspection and receive a FREE book 'Crawl Space Science', filled with up-to-date information about crawl spaces and crawl space problems.
Basement Waterproofing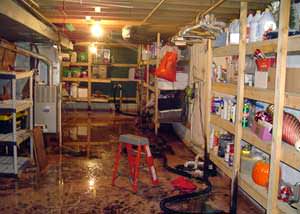 Why Fix Your Basement?
If it's worth owning a home that has a wet basement, then it's certainly worth fixing it!
A basement represents an entire floor of your home -- one that can be used as storage, or can be fixed to add an extra floor of living space. Eliminating moisture will help you control mold, will eliminate musty odors, and will help you to preserve your home.
We provide homeowners with a full line of products and services connected to basement waterproofing, including drainage systems, sump pumps, and many options for your discharge line.
Our full perimeter waterproofing system includes a written, transferable warranty, and can be installed quickly by our experts -- usually in less than two days.
We also offer many other options for homeowners who'd like to dry their basement, including warrantied repairs for leaking cracks and pipe penetrations, basement windows, and a wide variety of options for your basement walls and floors. We can also repair water-damaged drywall or get your basement ready for finishing.
About Our Basement Waterproofing Network
As with any other major home improvement, it's important to know that your crawl space and/or basement contractors are experienced and reputable.
As a certified Basement Systems Dealer, we're active members of a network of more than 300 like-minded professionals operating throughout North America and Europe.
We've been working together since 1987 to bring the industry's best practices and most innovative products to homeowners throughout our service area. Collectively, our products and services have been used to successfully waterproof hundreds of thousands of basements all over the world.
Being a Basement Systems Dealer means that we've completed a rigorous training series at their International Headquarters and have successfully completed certification tests in the areas of installation, system service, waterproofing system design, and customer service.
Our Award-Winning Products
Our experts have exclusive access to a line of more than 30 quality products for your home -- each that meets a specific need for your home.
Below are examples of the many innovative systems that we install to repair and upgrade below-grade spaces for our customers:
Sump Pump Systems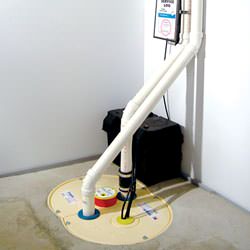 Our award-winning sump pumps integrate cutting-edge technology to assure a long-life, maximum reliability, and optimal convenience for the homeowner.
Each sump pump system includes a water alarm, an airtight floor drain, and a large, durable sump pump liner. Rubber grommets keep the airtight seal on the lid, while minimizing noise. Each of our discharge lines includes a unique IceGuard® pipe fixture that protects you from freezing discharge lines.
Our Sump Pump Systems:
Vapor Barrier Systems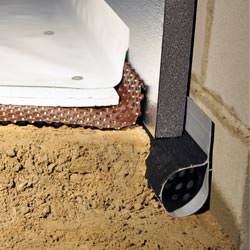 Moisture & humidity constantly passes through dirt and concrete surfaces, adding significant humidity to your home. We have several durable products that will help hold back that humidity and control mold in your below-grade space.
Crawl Space Vapor Barriers
Dehumidifiers & Ventilation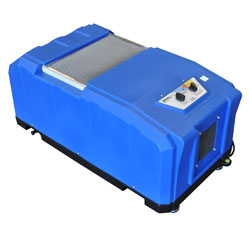 We provide energy efficient, powerful dehumidifier systems that are specifically engineered for the unique environments in basements and crawl spaces.
Our basement dehumidifier system is designed to be compatible with ductwork, allowing for your system to be stored in a closet or utility area, while venting air into the finished space. Our crawl space dehumidifier is uniquely shaped for the low ceiling in crawl spaces.
Both systems are automatic, self-draining, and include a MERV-11 air filtration system -- so mold, dander, and allergens are removed from the air as it operates.
Our Dehumidifier Systems:
Crawl Space Ventilation Systems
A Written, Transferable Warranty
Your system installation includes a written warranty -- one that's measured in decades, not years!
Should you decide to sell your home in the future, you'll be glad to know that your system's warranty is fully transferable to the next owner of the house. This provides an excellent edge for you when deciding on a closing cost!
Contact us today for a Free Estimate in North Little Rock, Little Rock, Benton, Jacksonville, Alexander, Sherwood, Greenbrier, Maumelle, Mabelvale, Bryant, Hensley, Perryville and the surrounding Arkansas area.
Looking for a price? Get a no cost, no obligation free estimate.